Picture this: you're wearing seven-inch stilettos and a lacefront wig. Five strangers are staring at you demanding to know why you should be there. You've just learned none of the words to Cut to the Feeling by Carly Rae Jepsen and after four weeks of physical and mental torture, you're beginning to wonder—did I accidentally join a cult?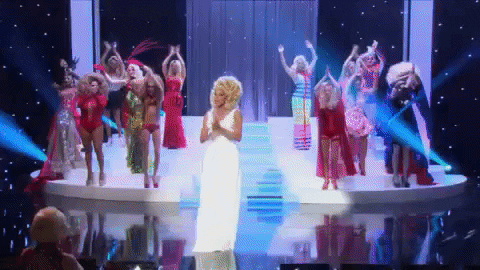 Rupaul's Drag Race (RPDR) is the most culturally pervasive queer show on TV (except for perhaps Queer Eye, which you can read more about here). The show's success is driven not only by its inherent ability to ignite difficult conversations about race and gender, but also by drag culture's serendipitous alignment with the zeitgeist of today, as Austin Collins wrote:
America—for the many rifts in its fabric—is a nation in love with "throwing shade." We "drag" each other; we spill "tea" all over the place. Drag—its language, its style, its vivacious art of insult—has seeped far into the culture, at a rate that seemed to quadruple as the Drag Race wore on.
RPDR has transformed drag – once niche, location-based and temporally-fixed – into an international phenomenon, transcending 'queer culture' and creating a source of unprecedented and immense revenue. In 2017, DragCon – the biannual convention of all things RPDR – amassed $9 million in merchandising in addition to the 40,000 tickets sold.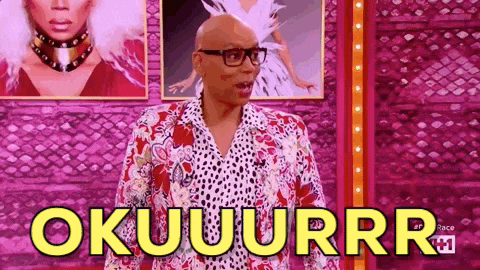 As the show has grown, amassing loyal disciples along the way, the mythic narrative of resurrection and triumph over self – and with it, the guru-like ideology of the show's charismatic leader – has become impossible to ignore. But becoming 'America's Next Drag Superstar' didn't always feel so spiritual…
RuPaul's School for Kitty Gurrrrrls
In 2012, RuPaul tweeted:
No guesses? The quote is from The Prime of Miss Jean Brodie starring Dame Maggie Smith, about a teacher who ignores the curriculum and instead endeavours to impart her own principles on her pupils. The quote goes on to say:
"all my pupils are the crème d e la crème. Give me a girl at an impressionable age, and she is mine for life."
As it turns out, our Mother Ru bares a number of similarities with Smith's character. Much like Miss Brodie, Rupaul employs a level of 'enchanting influence' in educating the contestants, utilising her personal biography to bring the girls up in her image. The alum are undeniably seen as Ru's girls for life. What's more, Ru's iconic "bring back my girls" catchphrase is a nod to the film, first used in Season 2's Snatch Game episode.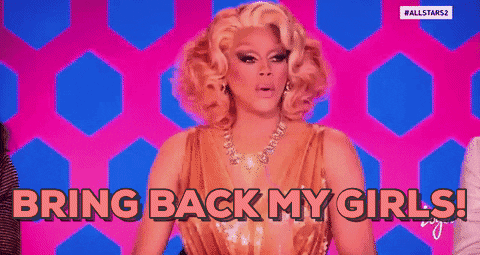 In the earlier seasons, before they ditched the sepia filter and enlisted Michelle Visage, most of the critique and insight offered by Ru revolves around the performance of femininity and 'realness.' But as the show leapt from obscurity and into the mainstream and the production value from contestants exploded, the criteria expanded to focalise authenticity and spiritual growth. Suffice to say, RuPaul's School closed its doors and the Church of Rupaul appeared in its place.
Forgive Me Mother, for I Have "so much more to show"
In a 2013 interview, Ru commented on the spiritual effect RPDR has on its fans:
"Do I give spiritual advice? All the time. Everything I ever say is spiritual advice… It's not like I'm a guru or anything… But as drag queens, we have taken the position of being shamans and witch doctors and people who remind the culture not to take itself so seriously."
But 2013 – with season 5 – marked an explosion of RPDR's popularity and with it brought the age of the GuRu. Today's Drag Race is characterised by the mythic narrative of overcoming 'the inner saboteur,' combined with the ritual of 'running the drag gauntlet', making the search for 'America's Next Drag Superstar' more of a de-facto spiritual pilgrimage.
Each season, 14 queens undergo the rite-of-passage of suffering and redemption, of challenging their self-perception and emerging the victor. Or as GuRu recently put it:
"The real challenge is for them to be willing to die and become reborn."
While an all-inclusive definition for religion is still tricky to nail down, some key elements include community, mythology, ritual practice, emotional experience, material expression and sacredness. These touchstones are all reflected in RPDR, both in the ways that contestants progress through the competitions and audiences devour the output.
RPDR then – with all its spiritual undertones, celebrity and entertainment value – may represent a new televangelism, one built on a message of self-love and self-help. The image of GuRu, the fabulous preacher, calls to mind the infamous televangelist, gay icon and friend of RuPaul's, Tammy Faye Messner. Tammy Faye's brand exemplified campiness and performance, and her message of freedom of expression and self-acceptance – "they're just clothes, underneath we're all the same" – mirror's Ru's "all born naked and the rest is drag" mantra. That's not to say that both outlets as 'spiritual sources' aren't somewhat contradicted by the inherently neoliberal ideals upon which they're built, but what isn't neoliberal nowadays?! Perhaps it is enough that the shows we're so religiously devoted to at least tell us to love ourselves.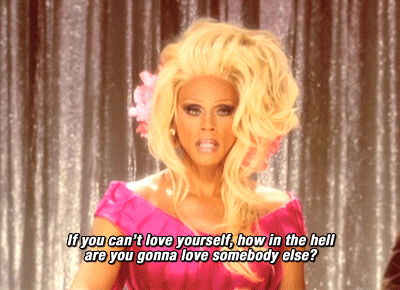 It is difficult to know if anyone expected RPDR to snowball into the emotional ayahuasca retreat that it is today, and it's just as difficult predicting what's to come. Perhaps the reigning winner, Aquaria, represents the future of the show. At 22 – having grown up a fan of the show – Aquaria embodies Ru's ideology that this competition is just as much about knowing you are the best as it is about being the best. At the end of the day, Church and drag both foster community and spirit through performance and "draw masses to their respective altars." But, perhaps in its secularity and virality, RPDR is able to spread its message of love a bit louder.