As a millennial I spend a lot of time online. I love social media but nothing scares me more than outrage culture.
Outrage culture is basically moral outrage taken to social media platforms. Emma Thomas describes moral outrage as a personal anger that arises when a transgression is against a moral standard. Before social media, the purpose of this form of outrage, was to establish who we could trust and to better cooperate with one another. However, Yale Assistant Professor Molly Crockett states that social media has changed our incentives. As social media users, we are more likely to express our emotions more deeply and share content that evokes emotions. like outrage. Crockett however, states that this is not beneficial for humans. Here is a current example of outrage culture on Twitter.
Twitter vs Girls by Rita Ora
On the 11th May, 2018, 27 year old british pop singer, Rita Ora released her single, Girls. The song featuring Cardi B, Bebe Rexha and Charli XCX has been described as an empowering bi-curious anthem. However, within in hours of its release, it became the latest subject of online outrage.
I first saw the release of this song online. Many users that I follow shared this song to their Instagram stories, praising it with an array of love heart emojis and gifs. But then I opened Twitter. I came across an extremely different reaction to this 'sexy summer jam.'
American actress and singer Hayley Kiyoko seemed to be the first Twitter user (with a large following) to voice her outrage against this song. Kiyoko, an out and proud singer, posted a long response to the lyrics and context of Ora's song. On her Twitter she stated her opinion, she felt the message of the song "does more harm than good for the LBGTQ+ community". More specifically Kiyoko was focusing her outrage towards these lyrics:
"I ain't one-sided, I'm open-minded
I'm fifty-fifty and I'm never gonna hide it
Sometimes I just wanna kiss girls, girls, girls
Red wine, I just wanna kiss girls, girls, girls"
Here is Kiyoko's full statement: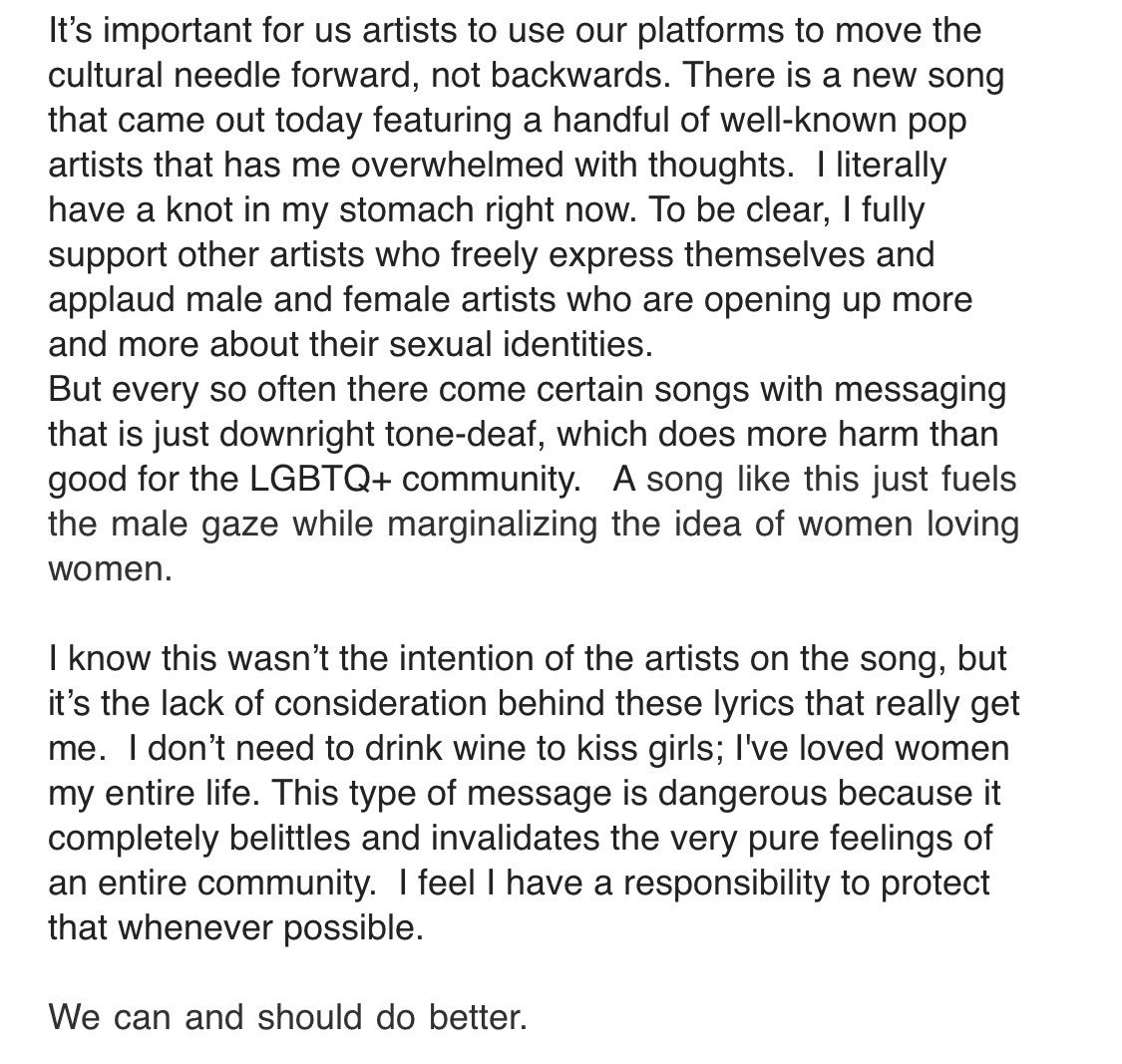 Other influencers and Twitter users began to share Kiyoko's words. (The tweet has since reached 27,000 retweets and 90,000 likes) I began to see more outrage than praise for this song. Kiyoko's statement also provided a space for other users to voice their opinions. However, the replies below Hayley Kiyoko's outrage statement, were like a toxic minefield of outrage directed at both Kiyoko and Ora.
Maybe YOU don't need red wine to kiss girls. but thats the thing, this song is not about you, this song is about HER and HER experiences. Just because a song is talking about lesbians or lgbt dosent mean it has to be thought out and carefully written with tons of consideration.

— Brittney Fleck (@BrittneyFleck1) May 21, 2018
Maybe not to you but a lot of people are heavily influenced by the music they hear

— Courtney Kitlin (@CourtneyKitlin) May 20, 2018
The outrage online created by Twitter users drove both singers Rita Ora and Cardi B to explain the meaning behind their lyrics.
— Rita Ora (@RitaOra) May 14, 2018
In her statement, Rita Ora, explained that the song was written to represent her truth and experience. Her intent was not to represent a whole community, a community that reacted with outrage and opinion to both Girl's singers, as well as influencers such as, Hayley Kiyoko.
The state of Twitter in 2018 pic.twitter.com/CACjzcqljL

— Mike T (@majtague) May 30, 2018
The Twitter vs Rita Ora situation definitely didn't leave me less intimidated by outrage culture. Regardless of my views on this situation, watching this on Twitter, made me realise that social media is great place to share your opinions. Though you do need to be prepared to deal with outrage culture.