Feeling overwhelmed by a sea of worries about what you are doing with your life and where to next? Feeling insecure about your life choices and questioning your relationships, career, or whether you are on the right path to 'success'?
Welcome to the quarter-life crisis.
Safe to say, as my graduation date looms closer, I've recently been feeling weighed down by a sense of doubt, confusion, and overwhelming anxiety about what on earth I am going to do with my life once I'm out in the 'real world' (whatever that means?!).
They say the best years of our lives are in our 20s and 30s, yet there is a current epidemic of young adults battling  anxiety, depression, stress, and feelings of confusion about their future.
Gone are the days when your 20s were about the freedom to "just worry about it later", and the stresses of life were left to your parents who are suddenly hit by a mid-life crisis as they reach the 'half-way mark'. Today's Millennials now face an overwhelming amount of pressure to keep up with our peers, find a purposeful and meaningful career, pay off hefty student debts, and somehow get our foot in the door to the Australian housing market… all while maintaining a good work life balance and putting time aside for a social life. Oh – and don't forget to look after your health and practice mindfulness while you're at it!
Seems impossible right? Well, as long as $22 smashed avo is around to cater our daily brunches, the future doesn't appear to be looking too bright.
Now, before you have a meltdown thinking that your 'hanger' or lack of caffeine yesterday constitutes a quarter life crisis, let's look at what the term actually means.
The Research
According to research published by LinkedIn, a quarter life crisis can be defined as 'a period of insecurity and self-doubt that many people in their mid-20s to early 30s go through surrounding their career, relationships, and finances.'
Of 2,000 Millennials surveyed, the study found that 72% of young professionals between the ages of 25 to 33 indicated they'd been through a quarter-life crisis. According to the survey, as many as 80% of Australian Millennials indicated feeling the pressure to succeed before they reach 30. A further 51% reported that 'too much choice' has left them frustrated, with a third (29%) feeling like they'd wasted time in the wrong job, and over a quarter (26%) saying they didn't know what their 'dream job' was.
The typical sufferer is "highly driven and smart, but struggling because they feel they are not achieving their potential or feeling they're falling behind," explains psychologist, Nathan Gehlert. For today's Millennials, it seems that it's less of a question of if you will experience a quarter-life crisis – it's more a question of when.
Too Many Choices
Now I'm sure you've heard the stereotypes. Millennials are the self-entitled, narcissistic, technology obsessed youth of today. If you've read my latest article about the generation of perfectionism, you too will understand that we're living in an age full of opportunities to succeed and the freedom to become whoever we want to be. At least that's what our parents have always told us.
"We have more choice than any generation before us, and yet, we don't seem to be any happier." – Allison Osbourne, Founder – AIMTM Coaching Program
According to psychologists, Joan D. Atwood and Corinne Scholtz, the problem is that there is "no definitive way of deciding which choices are the 'right' choices"; leaving us lost in the maze of adulthood and constantly second guessing our decisions.
Financial Fears
Let's be real here – it's a tough time to be young. A PWC 2017 Employee Financial Wellness Survey found that Millennials are suffering under the weight of financial fears, which in turn, negatively affects job performance and personal wellbeing. And in the face of economy instability, hefty student debt, stagnant wages, and exorbitant house prices, things don't appear to be getting easier any time soon.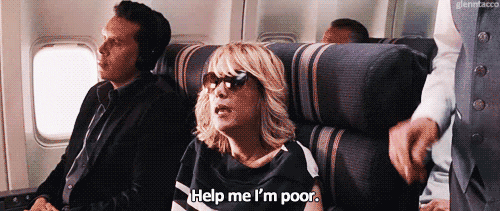 Setting Unrealistic Expectations
It's no secret that there is a huge amount of pressure on us to succeed and this can have debilitating effect on us, both professionally and psychologically. As a result, young people are increasingly "putting pressure on themselves to 'keep up' with society's beliefs of what they should be doing and how they should be living their lives," Life and Confidence Coach, Lisa Phillips explains. And when we fall short of these expectations, we are left disheartened and unfulfilled.
Sure, we tend to laugh it off. But have you ever considered how detrimental this pressure could be to your health? With repetitive messages telling us about all of the great things we could accomplish but haven't, it's really no surprise that  mental illness is on the rise among young Australians.
How did we come to set such high standards for ourselves?
Simon Sinek suggests we've grown up with our parents telling us we were special all the time and could be anything we want to be. As a result, we've been deluded into thinking we are better than the people we are competing against.
The problem is that Millennials' expectations have far exceeded their realities. Take that mentality into the job market and you've got young people who are unprepared for rejection, unwilling to believe that their application will not stand out in a pool of thousands, and who believe that they are the 'special' and destined for greatness. When rejection ultimately comes, we are left confused, dismayed, and disappointed.
According to Professors, Kali Trzesniewski and Brent Donnellan, while today's Millennials have a "heightened sense of egotism, self-esteem, and expectations for their future" they also "exhibit elevated levels of misery" and "physiological distress". But shouldn't we be paying more attention to these worrying signs and seeking help, rather than attributing it as a 'normal' part of growing up?
The Solution?
Feeling like I was in desperate need of a mental 'pick-me-up' to bring me back down to earth and send me some calming vibes, I recently picked up a copy of Mark Manson's  "The Subtle Art of Not Giving a F*ck".  Now I'm not usually one for self- help books but WOW this book was so damn refreshing. As cliché as it may sound, it gave me a much needed reality check to kick my first-world problems right in the arse.
I'm not exaggerating – do yourself a favour and go find yourself a copy to get rid of the bullsh*t from your life and focus on what truly matters. You'll thank me later.
If reading just isn't your thing, or let's be honest, more likely, you just can't be bothered, here's the top tips I've learnt to rid those quarter life crisis woes and enjoy life through all its ups and downs.
Stop Comparing Yourself to Others
Sounds obvious but it's true. The sooner you stop comparing yourself to others the sooner you can focus on your own achievements and take life in your stride.
According to the social comparison theory, we determine our self-worth based on our evaluations of how we stack up against others around us. Social media has exacerbated this problem, with success now measured by likes, shares, and followers. The problem is that "social media presents a warped sense of reality," Manson explains. "Few people post their bad days. Their struggles, their failures. Yet they all have them, just like you".
The reality? "Nobody knows what they are doing. Nobody has it figured out. The grass is always greener. Instead of comparing yourself to others and everyone on Facebook, start figuring out what it is that YOU want," bestselling author of The Quarter Life Breakthrough, Adam Smiley Poswolsky, stresses.
A fellow Millennial who gave up what looked like success on paper in pursuit of his dreams, Poswolsky's advice is well worth a listen.
Follow Your Heart
No one likes a sheep. Don't follow the crowd because you feel like you are 'meant' to. When I left high school, there was a huge amount of pressure to go straight to university to get a degree and start a career. Unsure what I wanted to do with my life (who can honestly say they do at 17?!), I headed overseas on a Gap Year to travel and work. To this day, I have no regrets and can honestly say it's helped me to realise what I am passionate about and now, when I'm faced with tough decisions, I remember that it's okay to follow the road less travelled and listen to my gut feeling.
Moral of the story? Don't be afraid to follow your heart. If things don't work out, at least you've learned something, right? Our lives are meant to be unique and take us on crazy paths (that's half the beauty of it!) and we'll face tough choices to make along the way. We are so privileged to have grown up in a world where we have the luxury of choice so let's be thankful for it.
Poswolsky's advice: "The success symbol of our generation isn't climbing the career ladder, it's doing work that matters." So pursue a life you love and do something that makes you happy!
"Don't climb the career ladder to nowhere. Build a career that matters to you."  Adam Poswolsky
Quit with the 'Deadlines'
As the old saying goes, 'life is a marathon, not a sprint'. We are often bombarded with rules, expectations, and deadlines on what we should be doing with our lives and when we should be doing it by. If you feel like you haven't got it all figured out, it's because you're not meant to. No one is.  
Stop beating yourself up for these phantom accomplishments you were 'supposed' to achieve. Life is meant to be stressful and confusing at times, while also being surprising and amazing. If you always had the answers, life would be pretty damn boring wouldn't it?
"Your twenties aren't about them going as you planned. But how you adapt, change, and grow when they don't." – Paul Angone
So follow the timelines and follow the help, or forge your own path, but whatever you choose make sure it's what you want.
If you're feeling overwhelmed and questioning the direction of your career, relationships, and overall purpose in life – don't worry. Over 86% of young people are in the same position. Next time you're feeling down in a rut or stressing yourself out, just remember, you're exactly where you are supposed to be. Roll with the punches and enjoy the ride – life is about the journey, not the destination, and it's totally okay not to have it all figured out.