The cosmetic surgery industry is booming. Australians are embracing the plastic surgery movement like never before, spending approximately $1 billion on cosmetic enhancement and surgery. Cosmetic injections are predicted to reach record levels this year, with an increase in the capabilities of fillers and botox boosting the popularity of undergoing these procedures.
But what are injectables, you ask?
Injectables are chemical substances used to support the muscle and give the appearance of plumping the skin. They are injected into the skin using a needle and are popular for various reasons, one of the most notable being to lessen the visibility of wrinkles. The two main substances used to achieve this are the Botulinum Toxin (known affectionately to some as 'botox') and Dermal Fillers.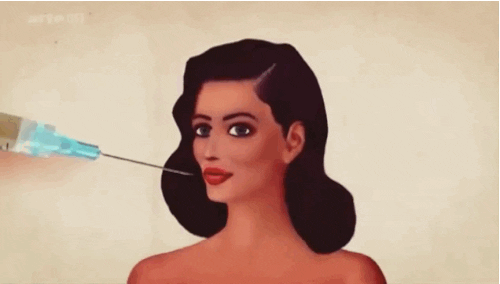 So, how do they work?
Botox blocks the nerve signals responsible for the contraction of muscles. In turn, the muscles are relaxed and therefore the skin appears smoothed. The effect of botox also causes the patient some difficulty engaging the muscles of the face in repetitive movements (think frowning and smiling), which also contribute to the formation of wrinkles.
Injectable fillers, on the other hand, are comprised of a minimally invasive aesthetic medicine. They are administered to alter and enhance the contours of the face, minimise the appearance of wrinkles, and add volume in desired areas.
The novelty of the celebrity lifestyle is the cause, some argue, with more and more embracing the type of exhibitionist lifestyle once attributed to the rich and famous. They contest that this heightened notion of visibility has led to undue pressure (on young women in particular) to look 'perfect'. Karol Markowicz agrees, having stated in the New York Post,
'The celebrity drive for perfection is trickling down to the masses, and even teenagers are getting plastic surgery in record numbers.'
The normalisation of botox is already apparent. Particularly in young women. It has even been claimed by sociologist, Meredith Jones, that it will be the 'absolute norm' for women by the middle of the 21st century.
Instagram appears to have played a significant role in this phenomenon. The sole purpose of this photo-sharing social media platform is to post photos. Cue the selfie-craze.
Take Kylie Jenner, a prominent celebrity who has been the subject of harsh public scrutiny. Despite being exposed to the gaze of the public eye from a young age due to being cast in renowned reality show 'Keeping up with the Kardashians', Jenner garnered her own attention when, at the age of 16, her lips suddenly appeared much fuller. Today, Jenner is the modern poster girl for cosmetic enhancement, with many believing she has since gone even further by altering her nose, breasts and backside. She is the #bodygoals of many young women and without a doubt a driving force behind lip augmentation procedures.
Her plastic surgeon agrees. Simon Ourian, M.D. credits Jenner with influencing a generation to 'want to look more beautiful', claiming 'It's like Kylie single-handedly gave a whole generation the ticket to a more enhanced version of themselves'.
He goes on,
'Her influence was much that what was once a taboo has now become a bragging right. People want to brag about having their lips done," he said. 'My social media patients put up a selfie with me so that they can say they came to our office.'
Ourian has a point. What was once something to be denied, some women (and even men) are opting for procedures that produce unnatural looking results, proudly displaying their enhanced assets. With society's growing enthusiasm for cosmetic enhancement, a subculture has been thrust into prominence and has been gaining traction.
Aptly named the 'Plastic Positives', these individuals have also been described as extreme beauty achievers. Those belonging to the movement accept and celebrate plastic surgery and cosmetic enhancement. An official Plastic Positive website has been founded, with visitors to the site having to sign up in return for access to the site's content. The website allows like-minded plastic enthusiasts to enjoy a judgement free online space to share tips, results and kudos to others who have had work done.
Despite this movement and its devotees appearing rather shocking to the majority, there is something to be said for the confidence of these individuals to pursue what makes them happiest. The takeaway message of resounding positivity would be that those belonging to the Plastic Positive movement do it for themselves to fulfill their own ideals of beauty. They disregard the disapproving judgements of others. In any other circumstance, this attitude would be commended by society rather than heavily criticized.
Do we really get to judge what makes others happy? Some think so.
'When it comes to disfiguring your face and body with fillers, botox and even surgery, is it right to let them go so far? Or is plastic surgery just the new mini skirt…?'
High rates of body dysmorphic syndrome has been found among individuals who frequently use cosmetic services. A study focused on sufferers of this condition found that 70% of these individuals had sought out some form of cosmetic procedure, with half actually undergoing treatment. While this may 'fix' the problem on the outside, it does nothing to address the unhealthy psychological symptoms associated with the disorder. To address this issue, it has been suggested that implementing a screening  process for patient's seeking to undergo treatment may prevent exasperating the problem. Currently, Australian cosmetic specialists are not mandated to undergo any such process.
There is also concern from some that society's beauty ideals are becoming much more narrow, eradicating our desire for diversity. You only have to look as far as the pillowed lipped women with impossibly high cheekbones (FYI dermal filler costs approximately $480 per 1 mil, just so you know…) infiltrating our social media platforms.  All opinions aside however, there is no denying that cosmetic enhancement is on the rise. For now at least, or until we no longer believe the 'more is more' approach to beauty is beautiful.