I know what you may be thinking 'pfft this article is clickbait' and 'Teen Mom is trash television'. But before you think any further, that is why I am here, to debunk these disparaging remarks and shut the h8rs down.
Teen Mom was developed in 2009 by MTV as a follow up to the series 16 and Pregnant. The reality show chronicles the lives of a selection of young women and their partners who are experiencing the challenges that come with a teen pregnancy. The aforementioned teens have their everyday lives put in front of the camera to allow viewers to join them on their (usually v dramatic) journeys.  We witness the teens go through the usual motions of finishing high school, applying to college, starting and ending relationships, and job hunting…doing so whilst growing, giving birth to, and raising a lil' human.
Now, I will be the first to admit that although, at times, Teen Mom includes profanity and other adult references, for the most part it conveys educational content and, in my opinion, strongly advocates against teen pregnancies.
My main concerns as a 20 year old uni student include completing university assessments, being able to pay rent each week, and planning a kickass birthday party for my cat. And I definitely could not imagine adding a 3 month old crying baby to that equation, especially after viewing (aka binge watching) 6 seasons of Teen Mom.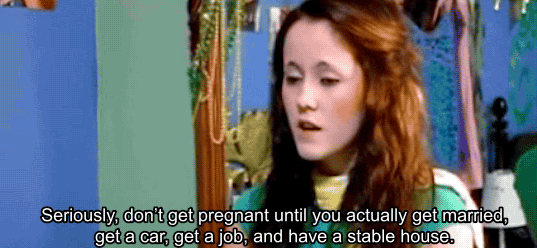 From realising the effect that the show has had on me, I believe that Teen Mom has done, and can do, some good in preventing, through discouragement, teen pregnancies. But my opinion only means so much, so let's take a peek at what some respectable researchers have to say…
Teen Mom aims to show the harsh realities that come with being a teen parent. The average episode includes scenes of the new moms fighting with their baby daddies (many of whom jump ship), fighting with their parents (the ones primarily supporting them), struggling both financially and with their studies, and longing to lead normal teenage lives like their friends.
It is easy to recognise that Teen Mom intends to document and deter teen pregnancy, not exalt it. The creator of the show, Lauren Dolgen, states that she recognised an epidemic that is occurring amongst teens that she believes is preventable – it was this recognition that motivated Dolgen to create the series. Interestingly enough, a 2014 study suggests that there is a strong link between the viewing of MTV and a drop in teen pregnancy rates. In summary, the study found that the rate of teenage pregnancy declined faster in areas where teenagers were watching more MTV programming.
'It is so important to shed light on this issue and to show girls how hard teen parenting is.' – Lauren Dolgen
As each episode of Teen Mom does not sugar-coat the many challenges its cast faces, it would not surprise me that the programme acts as a deterrent for teen pregnancy. Tell me, would you want to be a mother at 17 after witnessing this;
No thank you!
To add to the deterrent-effect that the show has, at the conclusion of each episode viewers are directed to visit the website ItsYourSexLife.com, which offers educational resources regarding safe sex and promotes dialogue between teens and their parents about sex. I guess that Mean Girls scene is still totally relatable all these years after…you know the one.
Teen Mom has experienced its fair share of controversy, often being criticised for glamorising and normalising teen pregnancy. Many argue that despite MTV'S quest for gritty realism, the show creates a distorted view of teen pregnancy. A study found that many teens believed that the women on the show have an enviable quality of life, a high income and involved fathers, and so they wish to be like them.
Now I can kind of see where they are coming from. I mean, if you do a comparison between the mothers from Season 1 to now, they all drive nicer cars, live in nicer houses, and have nicer partners. But I believe that this is a direct result of the mother's perseverance, hard work and dedication. It took a long and hard 6 years, but the Teen Mom cast eventually got their lives back on track and have made a name for themselves. Regardless of the mothers' progression throughout the series, Teen Mom has maintained the same underlying message – advocating against teen pregnancies, and in no way intentionally condoning it.
The takeaway here is that media can be, and often is, a force for good. MTV have successfully created a show that resonates extremely well with teens, and I believe this has been critical to the show's impact on society. The general consensus is that programs like Teen Mom, truly convey educational content. As an avid watcher of the show, I certainly do not want to be having a baby any time soon. The show has made me realise more than ever that babies, although cute and cuddly, are a massive responsibility that I could not deal with at this point in my life, let alone when I was 16.